There are different types of people; those who love to be in the spotlight and those who would rather work their magic behind the scenes. But no matter what kind of person you are, this is YOUR special day. Here are some tips and tricks to help you feel comfortable, confident and ready to celebrate as an introvert!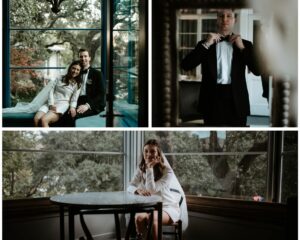 Kirsten Holliday Photography
Respect your needs. Give yourself some quiet moments.
When you're introverted, it can be exhausting to be the center of attention all day. It could be really helpful to go ahead and plan out your day with a few breaks in the timeline. 
You can do this in multiple ways! A first look is a great way to give you a chance to be with the person who calms you, why not use that?
Limit your pre-wedding interactions in your getting ready space
Limiting family interaction before the ceremony to allow yourself time to simply breathe and enjoy being in the moment.
Have a private meal
Including a private meal, just you and your boo, having a quiet moment to eat and refuel before you greet your guests. Set this up with your coordinator and your catering team, and get food sent to a private room. We actually can set this up for you and it's in our pre-planning questions to make sure that you have what you need! The getting ready suite is usually a good option for a tucked away place to go. 
Designate a break space.
Sometimes there will be moments when you might want to step away from the celebration outside of planned breaks. Talk to your planner about some good options and come up with a quiet place, close to the dance floor, where they'll know to find you. This will give you the flexibility to disappear for a bit if you need to without missing out on something.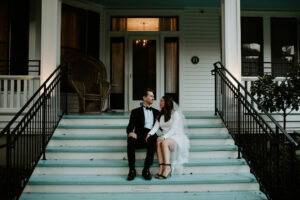 Kirsten Holliday Photography
Timing your special events on your wedding day.
There's a lot more happening on your wedding day than just the ceremony itself. There are traditions you may want to opt into, such as a first dance with your partner, parent dances, cutting the cake, toasts, bouquet toss, etc. It's important to think about where you will have the energy to be the center of attention throughout the day. Will it be better for you to split it up, a little at a time throughout the whole event? Or would you want to do it all at once and get the "spotlight work" out of the way? You might decide you want to limit your dances to 90 seconds, to sit down for toasts (or nix them altogether!)
Remember, this day is for you and your partner and you are allowed to make it flow the way that works best for you as a couple.