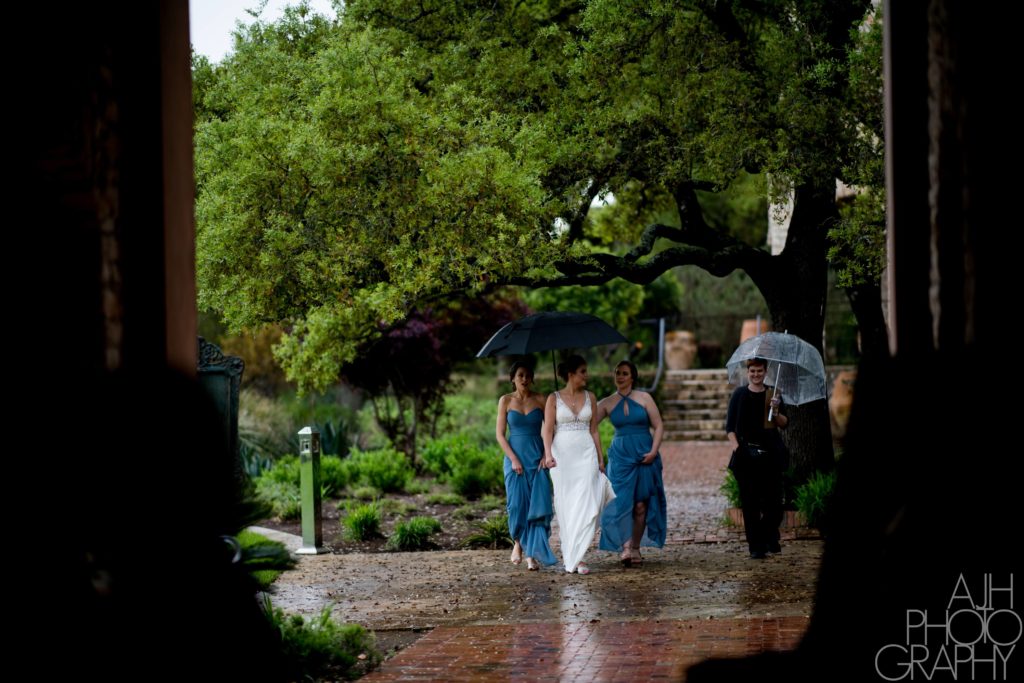 Let's talk rain plans – ugh – I get it. I wish we could all have sunshine and bluebonnets on our wedding days, but the weather is just one of those super fickle friends.
When we start planning, we all come together for this vision of what your wedding will look like. In almost everyone's vision, it's sunny and gorgeous outside. Let's talk about that for a minute, because unless your part of X-Men and Storm is in your back pocket, we can't really control the weather (but seriously – how awesome would that be?!). Since we don't have really awesome superpowers, we need to be prepared for anything mother nature can throw our way.
I call them "rain plans", but really there are a few different variations:
Cold plan – so, it dropped in temperature and you'd like to remember what your partner said in their vows instead of only hearing your teeth chatter. Let's add in heaters or plan to move the ceremony inside, depending on what's available at your venue. We also recommend having a temperature cut off so this is not an emotional decision – a common temperature cut-off is 50 degrees.
It's sprinkling plan – Okay, so maybe we change the dance party, but still aim for the ceremony (shortest part of your wedding) to happen outside.
It's a Texas thunderstorm outside plan – I won't lie – sitting outside and listening to the sound of thunderstorms is amazingly cool, but not ideal while saying your vows. Let's move the party inside or bring the walls down on that tent.
Heat plan – it spiked in temperature, and we have no shade plan so that grandma doesn't melt. Just like the cold plan, it helps to have a temperature cap in mind so the move inside or transitioning to climate controlled tent is a calculated plan and not based on emotions on a very emotional day.
Really, they're weather plans for when the weather just isn't up to snuff of what we intended.
Here are a few things we are keeping in mind when asking for a decision early on the day of the wedding (or even a couple of days before):
Are we using a tent for this plan?
Tent companies aren't trying to make it harder for you by asking for your decision early. Nope. But they do need to staff, schedule people, make sure they have the equipment you reserved on a truck with a driver and enough time and people to service your tent (and everyone else that also called rain plan). Depending on your tent companies policy, rain plans are generally required a few days before.  This ends up as Wednesday or Thursday for a Saturday wedding.
What vendors are involved?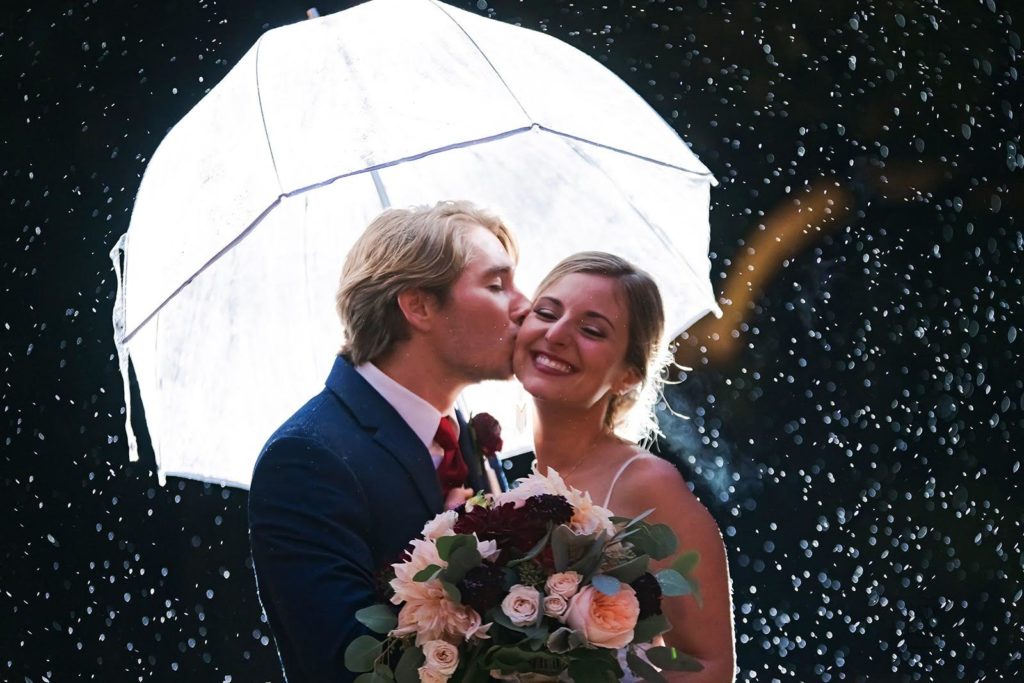 Hey – we should be able to pull that inside at the last minute, right? Well – not exactly. The DJ or band have a longer setup than most vendors and need electricity. They have expensive equipment and run sound checks long before the guests enter the space.
What about food safety, dinner setups, and staffing? We need to make sure all vendors have a game plan together so that we are still working as a team. This is why we want to agree on a time for rain plan to be "called"-  so we can ensure all vendors have adequate time for setup.
Beyond that, ask your florist – "hey, is that easily moved to another space?". This may change how they build it in order to make a rain plan be able to use a similar design feature to the original sunshine plan.
Scheduling the behind the scenes  
Weddings take people in order to happen. Any event does. That plate on the table? Yup, a person put it there. A few moments later, another person went around and checked to make sure they were all uniform. This way, the photo with all the plates would come out with them all being symmetrical.
There are so many elements that go into planning a wedding – we've thought about EVERYTHING, but so many people leave the rain plan to the last moment and only bother with it once rain is in the forecast. If we include the planning for possible rain in the original design, then you're way more likely to love both options and be way more focused on the excitement of marrying your partner than the weather forecast.