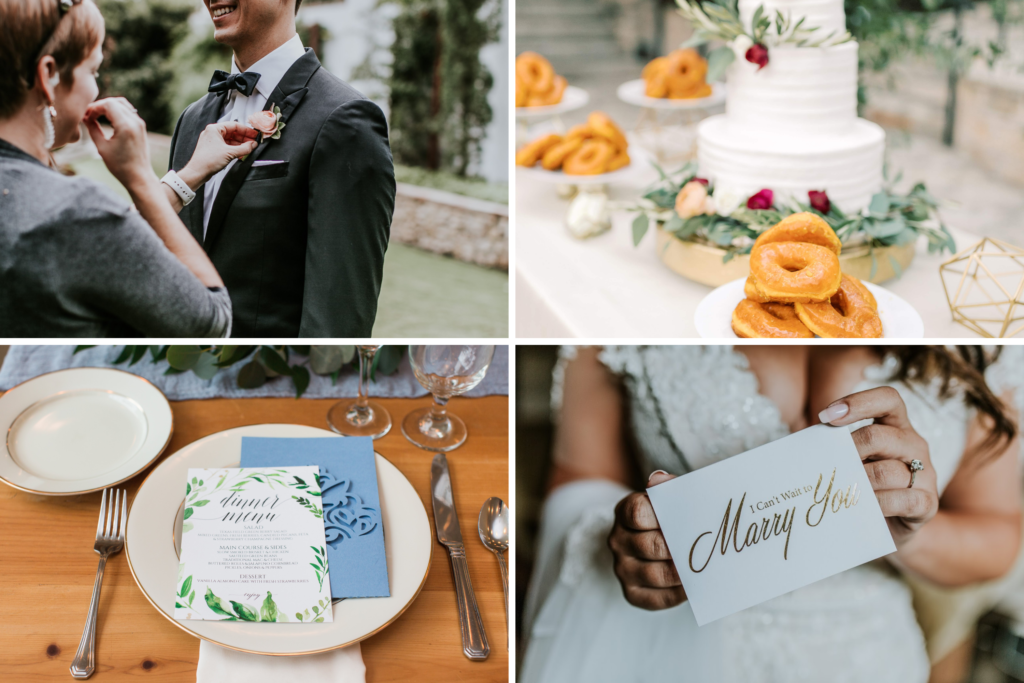 The mind of a planner is always on. We're always looking at how to improve logistics, flow, design elements, timing, and so much more. Here are 50 things your planner is thinking about so you don't have to! 
PS – this is just considering coordination and doesn't even touch all of the additional items that go into full service wedding planning along the way. 
Where will each part of the wedding take place at the venue? 

How will you get to each part of the venue? 

What shoes are you wearing, will they impact your movement throughout the space?

For getting ready, does your venue have a location for that or will we need a different one?

If your venue does have a space for getting ready, do we have enough hours in the booking to accommodate your getting ready crew?

If we need a different space, how will you get back and forth between them? IE – what car?

How will rain / cold / heat / wind impact your wedding?

What time is sunset on your wedding day?

If it's overcast, does that impact your photo schedule?

Do we lose light early due to the location of the buildings (such as a courtyard)?

What decor is going where, and who is placing each piece? 

For the items that you own, who is getting those to the venue and when? 

How many tables do we have, is that enough for the guests, sign in, photo booth, DJ, catering, etc? 

Does your DJ provide a table and linen or do we provide it? 

What linens fit those tables, and which tables need linens? 

If we have a surprise guest show up (plus one), where will we place them?

Can we do the rehearsal at the venue? 

If not, where will that be held, how can I explain the layout of the venue, do I need to have cues for the wedding party to stand in the correct places (IE tape on the ground on the wedding day).

Is there enough parking for the guests?

What about parking for the vendors? 

What time will the band eat so it doesn't intrude on their performance time but also doesn't add time to their setup? 

Can the caterer accommodate the vendor meal time and execute dinner at the same time, or do we need to alter the vendor meal timing? 

Who sets up the tables and chairs?

Will the linens also be there at this time? Who is bringing these?

When will the tables and linens be completely set up so I can make sure the florist is aware they would be able to start on centerpieces? 

When does the full room need to be set so that the photographer can grab room shots before the guests enter the space?

Where can we put the time into the timeline to accommodate these photos that don't take away from the wedding party / bridals / portraits shots?

Do we prefill glasses before or after the pre-wedding room photo?

For the ceremony, where should I stand to cue the wedding party discreetly so I'm not in all the aisle photos? 

How far out is appropriate to space each person/couple walking out at this particular venue to make sure that there isn't an awkward distance between each person, but also so the photographer can get photos of each person walking down the aisle without 4 people in the background.

When walking into the reception, are we introducing the full wedding party or just the couple? 

If we are introducing the full wedding party, do we want first names? First and last names? First and last names and relation and role? How do we pronounce all of those?

How would you like to be introduced? There are several variations here that have an emotional significance for some couples.

How many extra wine glasses should be rented for wine service at the tables? 

Are we offering different glassware for red and white glasses, or picking a happy medium? If both, are we setting both if we're having a wine service?

How does the timeline match the vendor contract regulations (IE – limits from the venue, bar company or catering about the maximum amount of time a bar can be open)? 

What type of food service / style of place setting / type of chair / type & size of table are we having? This will directly determine how many people can sit at each table.

Who will return the cake stand, plates/dishware, other rentals or when will that vendor return to collect them (prior to the venue's requirement)?

What is happening to the alcohol at the end of the night (at a lot of venues, you can bring your own alcohol but that also means you have to bring it off-site at the end of the night, about 30 – 60 minutes after the bar closes)?

Does that person have an appropriate car and know they will need to stay behind after the exit is complete and the couple is gone?

Setup needs to go in this order: tent -> draping -> tables/linens/chairs -> florist -> catering. If we don't, then one of the vendors is less effective or can't move forward.

We need to pack LED candles if dinner is outdoors just in case the candles won't stay lit. 

A transportation schedule needs to have padding for staging, guests getting on / off, and that bus can't make the turn quite like my Mini Cooper. 

Guest books should not have super glossy pages and need special pens that don't smear on your guest's hands.

If you buy your own linens, you need to wash them individually with a tennis ball in the dryer and hang them without pressing down, they should stay hanging until the wedding. Ideally, this process would be within 2 weeks of the wedding. 

If you're saving your cake top tier, be sure to freeze it for 48 hours (so your frosting doesn't stick to your saran wrap), then a layer of saran wrap, foil, saran wrap and put in Tupperware (a Tupperware container turned upside down works great) for the 1 year anniversary. 

Rings never go in pockets (sometimes they have holes). 

Kids under 15 don't get rings until they're ready to walk down the aisle.

If you're introverted, you'll need breaks, where can we fit those in without compromising the flow of the wedding? 

When will

you

eat? #youhavetoeat
This is just for coordination. It doesn't even touch the full service design, budget, vendor hiring, or all of the additional conversations that happen along the way.