You're almost ready to send out invitations, and you'll need to collect your RSVPs, but is that the only purpose of your wedding website? A great tool for keeping all your loved ones that you're inviting from asking you a hundred questions, your wedding website acts as an information catch all. 
So… What should be included in your wedding website?
Of course, we want to make sure that the basics are covered:
The Couples' names and their story. (It's cute and we want to hear about it!)

Ceremony details (address, date, time, level of formality if applicable)

Reception details if they're different, if it's at the same location and immediately following the ceremony, just put "reception to follow"

Collecting RSVPs and food selection when applicable. Remember, if you have RSVP cards for your invitations, this is an optional function. *Pro Tip – leaving a spot for if they have any food allergies, can help save you some time (and text messages) in the long run.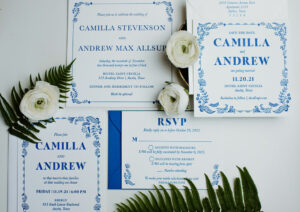 Kirsten Holliday
Travel details
If you are having guests coming in from out of town, or will be moving between venues, you may have gathered travel accommodations. Rather than sharing it with each person individually, including this on your wedding website will help not only share the information but also make all the details easy to come back to. 
Have you arranged hotel blocks? You'll want to share the name and address of the hotel, a link to help them book correctly, and a "due date" for when they need to have made their reservations. 
Did you line up transportation? Your guests will need to know what time and where they will need to be for pick up. Including routes and timelines will help to make sure your guests don't miss anything.
*Pro tip – if you have multiple hotels that your transportation is servicing, it may help to add this as a question in your RSVP function so you can situate the transportation effectively to balance the stops and number of guests appropriately.
Other wedding-related celebrations
Among the many moving pieces of a wedding are the celebrations leading up to, or even after the wedding (these can include the rehearsal, rehearsal dinner, or an after wedding brunch.) With these events, you may not want to invite your WHOLE guest list. In this case, you're able to make these hidden pages, or based on RSVP name, restricting its visibility to those invited to each event. Like with your ceremony and reception info pages, you will want to include what time and where each event will take place, along with level of formality and any detailed plans you may have or travel arrangements you've made.
Wedding registry
Whether it's links for wedding registries, or a honeyfund, your guests want to be able to shower you with love somehow! Help them to know how you would most appreciate the extra love and gifts, or if you're downsizing and wish to ask them not to bring anything at all. 
Show your personality as a couple
No matter what, let the website you make show your guests a little about who you are together. How you care for each other and the community you have built around your lives together. Photo galleries are a great way to include these details as your guests love seeing you two together and the adventures you've had that have brought you all the way to the wedding day!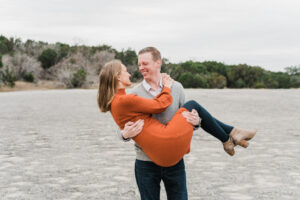 Carhart Photography
Bonus content. Who is in the wedding party?
You can fill out your wedding website by adding more information, such as introducing your wedding party. It's a great space to say something sweet about your relationship with each other and let your guests know who your VIPs are and what they mean to you.
How will you get your guests as excited about your day as you? What extra details might you include to give them the best experience? We'd love to hear!