I get a lot of questions about flowers and florists and even more about saving cash by creating wedding décor without flowers. When you're a DIY bride, there's a delicate balance of understanding where you need someone's expertise and where you can save some cash by doing it yourself. One of the easiest ways to save money when planning a wedding is to cut the guest list, but if you're looking for a few other options, I've compiled my favorite ways to save on your floral bill while achieving the look you're after.
I do recommend getting your bouquets from a professional, but there are lots of ways to save on the rest of your order and create your wedding décor without flowers.
1. Do something different with your boutonnieres.
[two_third]There are a couple of different things you can do with boutonnieres that don't require flowers. For example, you can use origami to create a unique (and meaningful) boutonniere without breaking the budget. I love this idea and actually used it at my own wedding. My husband is a comic buff, so we bought a duplicate of his favorite comic and used the cover (which was heavier and shinier) for his boutonniere while using the internal matte pages for the rest of the groomsmen. It worked out great! We still got the pop of color we were looking for while saving tons by doing it ourselves.
You could also do silver pins, button or key flowers, feathers, movie references such as the mockingjay pin, etc. It just depends on your imagination, and how unique you want to be![/two_third][one_third_last][responsive]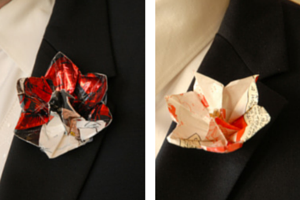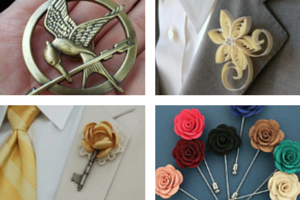 [/responsive][/one_third_last]
2. Do centerpieces without flowers (or at least with fewer flowers).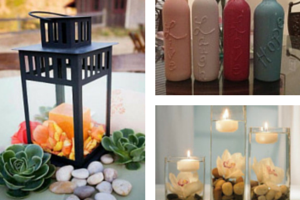 There are lots of ways to accomplish centerpieces without having flowers be the main focal point. Flowers are still great accents to a centerpiece, but they don't have to be the only thing that you have in the middle of the table.
Glassware
Use glassware with floating candles or submerged items for a classic look without all the blooms. For the submerged items, use marble fillers from the dollar store for a pop of color, or pearls/seashells if you want something more substantial. Glassware is also great for a single-stem submerged flower for a simple statement that is classically beautiful.
Upcycled
Lots of items are getting a second life as wedding decor. This can vary from wine bottles to mason jars and more, used in new and interesting ways. Cover wine bottles with twine, papier-mâché, or colored yarn for a unique look that adds to your tables. Because you can vary the height and width of the bottles, use different shapes to add variations and keep your centerpieces unique. Single stems or small arrangements look great out of the tops of bottles!
3. Use seasonal décor.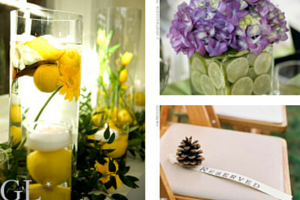 Depending on when you're getting married, there are various seasonal decor items you can use to supplement your centerpieces.
Spring/Summer
Fruit cut into slices and put inside glass is a great way to add color and zest to your tables, and reduce the number of flowers (if any) needed to fill the glass.
Fall/Winter
Pinecones and dark-colored patterns are great ways to fill some of the space and add a unique (and affordable) pop to your centerpieces.
We'd love to hear about your ideas for centerpieces! Are you doing your wedding décor without flowers?