So you want to include your fur-kid in your wedding? Fantastic!! It is becoming increasingly common to bring our furry friends with us everywhere, and even to let them be our ring-dog or flower-pup! We have had many weddings with a dog as an honored wedding party member (or just there for the getting ready festivities). Always check with your venue before you decide to include your pet, to make sure they are allowed. Your venue manager will let you know if there are any restrictions on where your pet can and cannot go (and how long they're able to stay). This information may be included in your venue contract as well. This is only one of many things to consider when choosing to have your pet walk down the aisle. Please see below for a list of do's and don'ts for including your dog in your wedding!

Do's
Have a predetermined "handler" ready in the audience
This should be someone that you trust with your dog, but also someone that can miss the ceremony if something comes up and the dog needs to be taken away. In other words, not your parents or grandmother! Dogs can be unpredictable – even if your dog is always very well-behaved, the excitement of the day can cause unexpected reactions. So make sure the assigned handler is aware of what to do and where to take the dog if for any reason it is needed. Keep in mind that there are also amazing vendors who can be your handler! They'll even pick up your pet from your home and bring them to and from the venue! This is ideal for situations where you absolutely want your dog in photos or the ceremony, but not to stay for the full duration.
Remember the treats!
If you want to encourage your dog to go the right way and do the right things, a pocket with treats should help do the trick! While you are packing, make sure to bring everything you know your dog needs to be happy! Water, bowl, food, toys, etc.
Include the dog in the timeline
When we have dogs participating in a wedding, we always have several questions answered ahead of time to make everything smoother. The type of questions we ask are: What time will your dog arrive?  What time will your dog depart (or go back to a room?)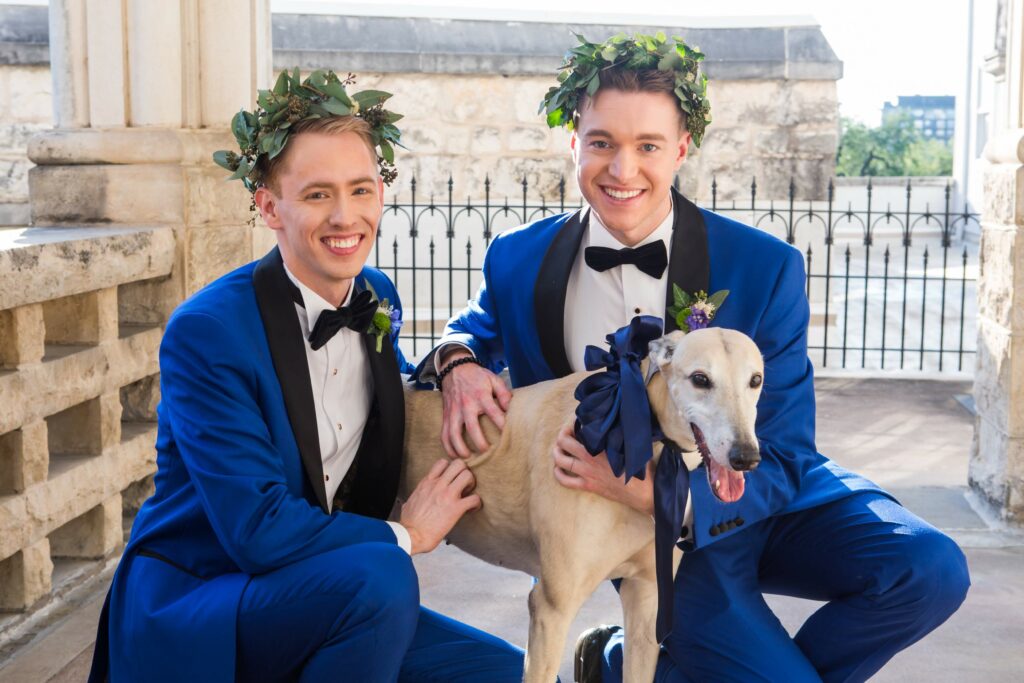 Don'ts
Don't use a retractable leash
Retractable leashes can burn a leg or trip someone, they can (read: will) break at the most inopportune time, and they are much harder to control than a regular lead. Always use a regular leash… but DO feel free to fancy it up to match your wedding theme or colors however you see fit!
Don't attach the actual rings to the dog
As cute as it may be, we tend to discourage you from attaching the real wedding rings to the dog. You never know what can happen – a well timed itching could launch rings across the venue. An adorable ring box for your furry ring bearer's collar offers a great photo-op without the risk!
Don't leave your guests uninformed
Informing your guests that a dog will be present is a good way to head-off any problems that may arise. Family members with allergies or fear of dogs can prepare how they see fit.
For some people, their dog helps them stay calm and sane – and that is always welcome on the wedding day. Just keep the above tips in mind when preparing for the wedding, and don't feel shy to ask your planner for additional advice!