Looking for the perfect way to end your epic day? While you may be considering venue restrictions or just looking for a unique idea, we've put together some of the most popular and unique ways to say goodbye to your guests! 
Lavender
If you're looking for an environmentally friendly option, dried lavender is a beautiful way to not only wish you goodbye, but make the entire exit smell amazing! 
Lavender photographs similar to confetti, but is completely natural and thus, generally doesn't require the same cleanup as traditional confetti cups.
Water-soluble Biodegradable Confetti
Biodegradable confetti dissolves in water and makes a great venue-friendly exit plan! Since it washes away with a hose or rain, it requires very little cleanup after the fact by family or staff. 
It photographs beautifully and guests love the simple toss! 
Human Tunnel 
Bring the dance floor to the exit with a human tunnel! You can line people up on both sides and have them cheer or join their hands above you as you duck through your family and friends. 
We've also had a cheer line where you pass through your guests as they cheer you on with smiling faces! 
Rose Petals 
Rose petals allow a colorful goodbye to your wedding and photograph beautifully! Be sure to check with your venue regarding cleanup regulations before committing to rose petals. For example, your venue may be totally fine with white petals, but red is often a no-no as it can stain concrete if trampled on.
Birdseed
We love doing birdseed at private estate locations! Birdseeds are still seeds after all, so a lot of venues don't appreciate the random flowers growing at their exit locations, but private estates offer a bit more freedom since they're privately owned (generally by family). 
Couples throwing things on their guests 
What if we change things up completely and the newlyweds throw something at their guests? We had this idea recently and loved the idea of the couple throwing rose petals at their guests at the end of the evening – flower couple style! 
Pom Poms 
Cat Toys
Cat Toys are a fun and unique way to add color to your send off, and the best part of all- you can donate them to a local animal shelter after your event!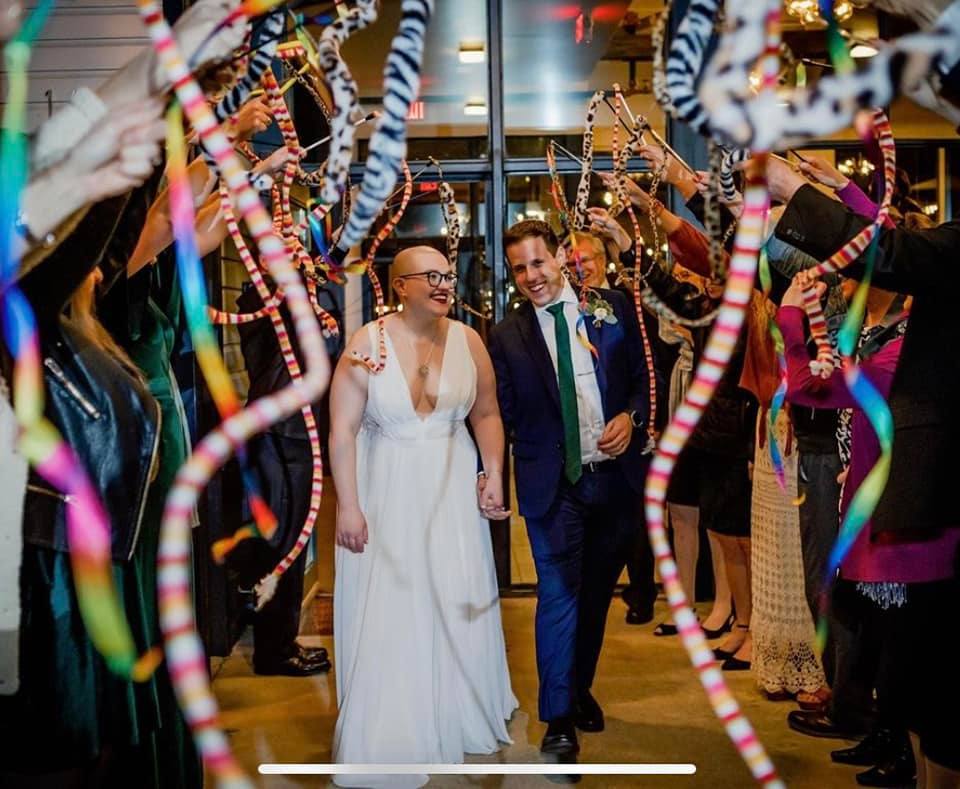 Wildflower Barn Photography
Bubbles
Who doesn't love bubbles? I often get asked if they show up at night in photos and the answer is YES! We do need to let your photographer know in advance so they can bring the correct lighting, but bubbles are a super cute (and clean!) way to end the festivities and accommodate almost all venue requirements (as long as you do them outside). **Sidenote – we still love bubbles, but have put them on hold for most events during the covid-19 pandemic. They can still be done, but are best with a machine and coupled with something else rather than guests blowing on you.**
Sparklers
What you should know:
Sparklers burn at 1,800 – 3,000 degrees Fahrenheit

Quality matters in sparklers. The cheaper ones will produce fiery chunks as they burn down and produce more smoke than necessary. 

Regulations around sparklers can stem from the venue or the county depending on insurance, burn ban, venue policies, etc. 
Some venues do not allow sparklers at all, while others allow sparklers as long as there is no burn ban in effect. Certain other venues allow sparklers any time! You will need to review your contract with your venue to know if sparklers are an option for you, and if you'll need a backup plan (in case a burn ban goes into effect).
Be sure to grab the recommended length of 20 – 22" for the right burn time (about 2 minutes). Anything shorter than this, and they'll go out before you have a chance to walk down. Anything longer could be a fire hazard, as guests will put them down before they are finished burning.
Sparklers are the most common exit choice – but if you've had a great open bar for several hours, sparklers may not be the safest option for your guests. Be sure to have a backup plan in case a safety call has to be made, or in the event of rain (sparklers can never be done inside).
If you love the idea of sparklers, but don't want to risk the safety, we LOVE doing private photos with just the two of you! 
What about Lanterns?
While we love the romantic sentiment behind a wish lantern send-off, we just can't recommend them in Texas. The risk of catching a tree down the road on fire is too high for us to provide this as a recommendation.
#LetsNotBurnTheCityDownOkay?