Food trucks are such a fun and engaging way to entertain your guests!
I always say that we have a love-hate relationship with food trucks. When done well we LOVE them, but there are a lot of things to consider to make sure that they are done well. So, what things do you need to consider and plan for in order to make a food truck a success for your wedding?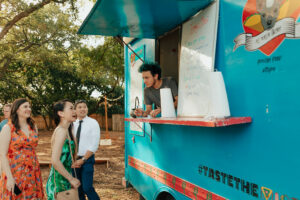 Where will your food truck park?
Be sure to consider where your food truck can park, and when they can park there. For example, making sure that they aren't going to crush flowerbeds, be too far away from the location of the dinner, block a vital portion of the wedding, and power concerns (see below).
Is there a safe place that's large enough for them to park?

Are they blocking any major pathways or other vendor loading areas?

Are there any obstacles that they can't drive over (or under) to get to that location?

Which way do they need to be so that the window is on the correct side?

Where will the line go?

Is there enough space for guests to gather for the line and wait for their plate to be ready?
What kind of power needs does your food truck have?
Some trucks need a plug provided by a venue (preferably on its own circuit). Some trucks bring their own power source, typically a generator and those can be kind of loud. Making sure that they are within range of the venue and that there's an extension cord available for them if they're plugging in and if they're providing their own, making sure that the sound from that won't impact your event.
When running that power cord, make sure that there's a safety plan to keep it out of all major walkways or a plan to secure it down safely (one that's approved by your venue).
How far is the electricity?

Is it a separate circuit?

Is there a spot for a generator?

Will the generator be too loud for that area of the venue?

Who will bring extension cords if needed?
What is the lighting like?
When you're walking through the venue during daylight, you may find the *perfect* spot for your food truck, but if your dinner service is happening after dark (which a lot of them do), be sure to think about lighting.
Can your guests see the menu?

Can they see the window?

Is the path to and from the truck lit as well?

Do you need to bring in lighting?

If so, how much and where will it go?
What are the logistics of dinner?
With each food truck, they operate a little differently. Be sure to ask what they include and what you need to provide so that you have everything you need (including enough time) to have everything run smoothly!
Do they provide things that are

not

on the truck such as non alcoholic beverages?

Do you have staff outside of the truck to assist with setting place settings, tables/chairs?

Do they provide a cleanup service once they leave?

How long will it take for them to service your group?

Can they serve your guests sufficiently within an hour?

Will each person get the same thing, be able to order anything off the menu or will you have a set restricted menu?

Do they need to place their order and wait for their name to be called or is there a different system?

How are dietary restrictions taken care of?

Do they provide plates, forks, napkins, and condiments?

Will they be inside the truck or is a station required to be set up outside of the truck, and who will take care of that?
Other things for your catering provider
Be sure to check in with your venue requirements on catering. Some of them require specific insurance, levels of service, cleanup, setup and breakdown of table/chairs/place settings, management of trash, trash removal, etc. Make sure you're aware of what those are and that you have them taken care of with the food truck service or an alternative catering support company.
Generally the caterer also cuts your cake after your ceremonial cake cutting. Will your food truck provide the staff, plates, forks, and napkins for this service?
In conclusion, we love food trucks when they're done well and your guests will too – it just takes a bit more heavy lifting to make sure all the pieces align for a great guest experience.