All you need to know about hotel blocks
Let's face it, a great part of your wedding will be focused on the guest experience as well, so you need to make sure everything will be perfect. As some of the guests will be coming from out of town, reserving their accommodation should definitely be on top of your planning list. Don't know how to approach the subject? We've got you covered! Today we will explain all that you need to know about hotel blocks and show you how this can be done smoothly with the right info. 
Determine the guest count
Many guests that will be traveling to attend your wedding will be more than thankful if they have rooms reserved to take a breather, get ready, and spend the night. So how to do it right? We start with the number, of course! First, you need to determine the approximate number of those that will be traveling. Generally, if accommodating your guests requires 10+ rooms – you need to secure a hotel block. If you have a smaller or younger crowd, be sure to keep in mind that some of your guests may choose to opt into an AirBnB instead, which will lower the amount of people staying in your hotel block.
Distance & Transport
When scouting for hotels, there are a few things to consider! Are you providing transportation to / from that hotel? If so, making sure that the hotel(s) you consider are on a route to the venue can definitely be handy. Beyond that, if you want to allow guests to experience Austin and your venue is a bit out of town, you may want to consider having 2 hotel blocks – one downtown for that true Austin vibe, and one out of town closer to the venue. If you're providing transportation, naturally, you will want to service both hotels. 
Another reason it's important to determine if you're providing transportation early on is that you'll want to promote your hotel blocks differently. Since you can't have a bus stop at every AirBnB in the hill country, you'll want to mention that transportation will be provided to and from the hotels – that might change the plans of some of your guests if they want to take advantage of that transport instead of selecting that cute VRBO they had their eye on.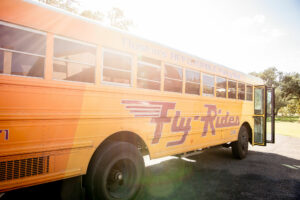 Courtesy vs Attrition blocks
Terminology can be tricky when signing contracts and reviewing the options, so let's break down the basics. Courtesy blocks are those rooms that are put on hold for you until a particular cut-off date, let's say 45 days before your wedding. In this case, you won't have a financial obligation if some of the rooms don't get filled, but you have to decide much earlier. The hotel will simply release them back to open booking once your contract expires, and you don't have to pay anything for them. These are generally limited to ~10 rooms, so they are not as helpful for the larger guest count needs or if you want to have your wedding guests stay all in the same location.
In the case of attrition blocks, well, the simple rule is that there is a certain percentage that needs to be filled, otherwise, you will pay a penalty. Let's explain it better with an example. If you sign a contract for 80% attrition and your block is for 10 rooms, if 8 rooms are not booked, you'll have to pay for any open rooms up to your percentage guarantee. But here's the good news! The bonus to attrition blocks is that they are generally more forgiving on the date of booking for your guests so if you have last-minute planners (which will definitely happen) and you want them to all stay together, this may be a better option for you. Beyond that, attrition blocks can get better rates for your guests, additional perks, or nicer hotels – which is always a plus!
The Price Tag
Sure, not everyone can afford the same price for a room so it would be considerate to check out several hotels and evaluate their offers. As wedding planners, when working with our couples we usually secure 2 blocks at different price points. In this way, your loved ones will have the benefit of a choice. 
Tip: When reserving two blocks, each in separate hotels; make sure the prices are considerably different. Generally, we go with one downtown and one near the airport or near the venue so they are different calibers of hotels.
Trust us, knowing all of this is a lifesaver when it comes to figuring out the logistics and having a stress-free wedding. Don't forget to check out our other blogs for more tips and hacks that will help with your planning journey!