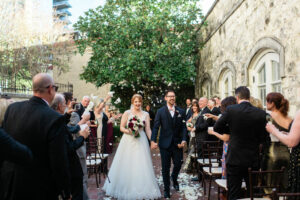 April Mae Creative
Who Comes to the Rehearsal? And What About Dinner?
You've gathered your wedding party, planned your wedding, and now the special day is almost here; and you're being asked about rehearsal plans. Where will rehearsal take place? Who needs to be at the rehearsal? What happens at the rehearsal? And who should come to the following dinner (if you're having one), and where will that be?
Where should rehearsal take place?
When it's possible, having the rehearsal at your ceremony site is going to make things easier to run through. This will allow you to figure things out like spacing between your wedding party, and how much time you have to walk the aisle. However, sometimes, it's not possible and that's okay too! In this situation, we tend to see the rehearsal taking place in someone's backyard or outside the restaurant where the rehearsal dinner will be taking place.
What happens at the rehearsal?
This is your opportunity to make sure everyone knows how they play a part in the ceremony. What order is everyone going to go down the aisle? Where does each member go when they get to the end of the aisle? If they are going to sit down, where are they going to sit? At what point will any readers step forward? Where will they go for the reading? Do they have a handheld mic, or a lapel? The rehearsal is your chance to break down each step of the ceremony and walk through it, like a rehearsal for a play.
We also work through when there are music transitions or announcements made. That way each person knows when there'll be a delay before they walk down the aisle because we're pausing for that cell phone announcement or the song transition.
We always joke that we run through the rehearsal twice, once to show what's going to happen and once to get the awkward out! We want everyone to be confident on the wedding day and going through it helps everyone be a little more comfortable when it's show time.
So who comes to the rehearsal?
When it comes to planning out your rehearsal, it's important to think about who your major players are in the ceremony. Who is walking down the aisle? Are the parents walking, and what about the grandparents? You will want to make sure they are included in the rehearsal process as well as your wedding party. If you're having anyone doing a reading, or playing a special role in the ceremony itself, you'll want them to attend your rehearsal.
AA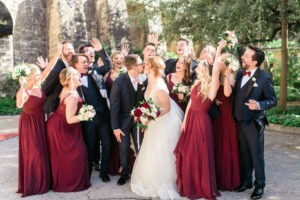 April Mae Creative
We like to summarize this as anyone who's walking down the aisle OR participating in the ceremony which can be all of the following! 
Officiant (the person performing the ceremony)

THE COUPLE OF COURSE

Wedding party 

Parents

Grandparents (if walking down the aisle)

Flower girls 

Ring bearers

Ushers 

Readers

Any other participants in any ceremony within the ceremony
Where should dinner be hosted?
Just like your wedding, your dinner should reflect what makes YOU most comfortable. Would you rather have dinner at a nice restaurant? Something that requires reservations? Or would you rather something more relaxed, like a pizza party or potluck at the park? There are so many options! When choosing a venue for your dinner, just remember to think about whatever travel time will be required to get there from the rehearsal space. If your rehearsal starts at 6pm, and a rehearsal takes typically about 60 min, ending at 7pm. Your dinner probably won't start for at least another 30 minutes depending on your travel time; so you would want to make sure the people who won't be at the rehearsal get that 7:30pm time for dinner to keep them from waiting around.
Who else should come to the dinner?
People who play support roles, anyone who is not participating in the ceremony but will be helping out on ceremony day (such as a House Party, or any family that isn't in the processional, and their dates) don't necessarily need to be a part of the rehearsal but are great to include at dinner. This way you can communicate things such as what time to be where, as well as thank them for the part they will be playing in your event!
Some couples like to invite any guests that are traveling the day before so they can take care of their dinner plans after a long day of traveling and welcome into the festivities. You can choose to be more or less intimate depending on your family norms and budget.
Have more questions – we would love to hear them below!